All Age Carnival | National Netball Day | National Badge
♕ ♕ ♕
All Age Carnival
26th July 2015.
A massive shout out of thanks to our wonderful clubs, Central, Dudley, Kahibah and United, our 11 Years Development parents,
senior representative players and the Associations executive for all their hard work and help today
at our extremely successful Lake Macquarie Games Annual Netball Carnival.

Thank you - we could not do it without your support.



Charlestown's 11's Development Squad warming up for the carnival.


National Badge
24th July 2015.
☆Congratulations to Anthony Jarvis who gained his National 'C' badge today. Well done Anthony!!
National Netball Day
25th July 2015.


National Badge
17th July 2015.
☆Congratulations to Abbey Carr who gained her National 'C' badge today. Well done Abbey!
Shoot Out Breast Cancer - Round 11
Charlestown Netball Association and all clubs have come together to support the Hunter Breast Cancer Foundation with the
'Shoot Out Breast Cancer' round on 11 July 2015.
Very proud of the Association as over 600 pairs of pink socks have been purchased.

2015 State Age Championships.
29th June 2015.
What a fantastic weekend for all of our Charlestown Netball representative players.
A huge thank you to everyone involved in making this weekend happen for our girls.
To the parents, thank you, the support you give your daughters is amazing, the coaches and managers thank you for giving up your time
to allow the players have this wonderful experience.
Our umpires, who not only umpired but supported from every sideline as they were passing.
The sports therapists who kept every player on the court and massaged at the end of the day after those wonderful(!) ice baths.
The Executive of Charlestown Netball, thank you all for playing and being involved at Charlestown.
☆☆☆☆
☆☆ Well done Charlestown 12's - winners in Division 2. How good do our 14's look at Baulkham Hills.


---
23rd June 2015.
Charlestown Netball would like to thank all our Representative Coaches and Managers
and we wish you and your teams all the best this weekend at the NSW State Age Championships
at Baulkham Hills and Eastwood Ryde.
Go Charlie !!


2015 Netball NSW State Championships.
7th June 2015.
Another State Championships done and dusted, congratulations to all our wonderful players, coaches, umpires, sports trainers and officials.
Your performances and sportsmanship was outstanding, thank you for playing for Charlestown.
Proud of each and everyone.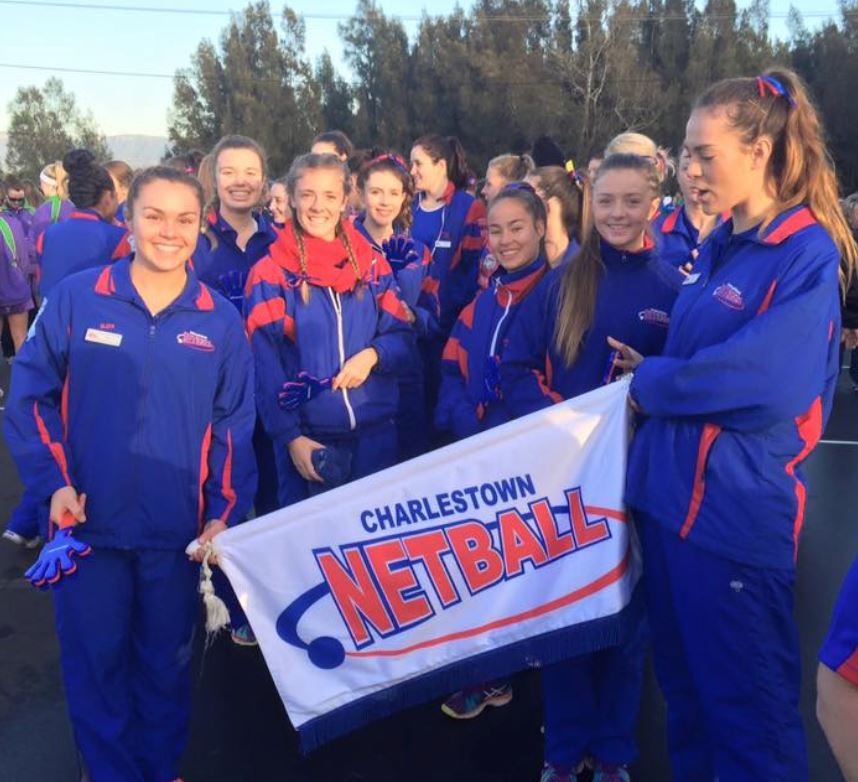 ☆☆Congratulations to our brilliant U/21's winning at the Netball NSW State Championships.☆☆
Well done coach, manager, sports trainer and most of all players.
---
The Greater Building Society.
22nd May 2015.
Charlestown Netball and The Greater Building Society have joined in a partnership for the 2015 season.
Charlestown Netball are thrilled to have this sponsorship and will use it to support our Umpires through education and training.
Thank you to the Greater for your support.


Wet Weather News
We have a new system for updating club news including wet weather updates. ☂ ☂ ☂
Just go to this link Wet Weather
On Apple devices, you will be asked to save the App to your home screen, other devices will allow you to bookmark and add the shortcut to your home screen.
This can be accessed from any device that has an internet connection.
More News Items Please see News Archive link on left (above left).
Top of page
☆ 24th January 2012. We are now on Facebook!

Like us to get updates about what is going on. Click on icon or Search for Charlestown Netball Association Inc.









Registrations:
♨ If you are an individual looking for placement in a team or wishing to form a new team, please contact our secretary Glenda Geyer on 0407 458321.


☺
==========
Wet Weather Info Good Sports Info Codes of Behaviour


Top of page